Shinerpack Paper Filler Inflatable Biodegradable Air Bubble
* 100% biodegradable and recyclable
* Made from paper with a starch based sealer
* For use with mini air void fill bubble systems
* Alternative to plastic air bubble film roll
* Save storage, Inflate on demand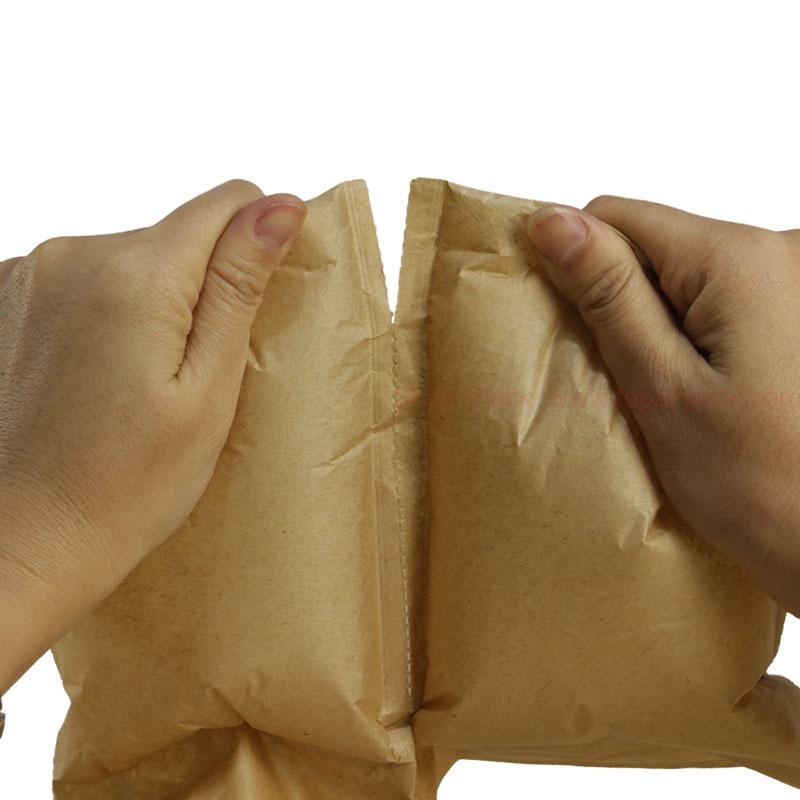 Friendly Eco Packaging Paper Air Pllow Bag Roll
Have you arranged the first cup of milk tea in the autumn of 2021?
When drinking milk tea, you will find that in today's milk tea industry, in addition to replacing disposable plastic straws with paper straws, many milk tea cups have also changed from disposable plastic cups to paper cups.
With the continuous upgrading of the plastic restriction order and the increasing awareness of environmental protection among brands and consumers, leading enterprises such as beverages, daily chemicals, food and beer have tested paper-based packaging such as paper bottles, cartons and paper bags. A reform around "replacing plastic with paper" is quietly staged in various industries. Paper packaging products have multiple natural advantages of renewable, recyclable and biodegradable, and will not become an ecological pollution source.
Under the background of "carbon peaking" and "carbon neutralization" proposed by China, replacing plastic with paper can achieve the goal of reducing carbon emissions by reducing the use of fossil based materials. According to the Research Report of Huachuang securities, China's paper products have sufficient capacity and excellent performance, which can meet the replacement demand under the plastic restriction order. In 2025, the scale of white cardboard replacing disposable plastic tableware in the field of catering takeout is expected to reach 2.34 million tons, and the predicted demand scale of non degradable plastic bags in the retail field such as supermarket pharmacies is 1.17 million tons, with a total market demand of more than 3.5 million tons.
The 2021 China packaging container exhibition held in Shanghai on July 14-16 made us deeply feel that packaging enterprises, terminal enterprises and consumers pay high attention to paper-based new materials and new packaging. On the booth of excellent paper-based materials and paper packaging manufacturers at the exhibition site, there were an endless stream of visitors and discussions on the development trend of paper instead of plastic and paper packaging materials, The curtain of the prosperous era of paper packaging development has been opened.
At the 2021 China packaging container exhibition,
Once amazing new paper-based materials and new packaging in the industry!
–New paper-based materials
Packaging is an indispensable part of commodities. "Package" embodies the practical function of packaging design, wraps goods with appropriate materials and processes, and realizes the protection function of goods; "Packaging" reflects the artistic beauty of packaging, which refers to beautifying and decorating commodities and realizing the sales function of commodities.
However, with the continuous development of economy, the environmental problems caused by packaging have attracted more and more attention. On the one hand, the packaging process consumes energy and resources and produces industrial waste, which will also cause environmental pollution. On the other hand, the effective protection of packaging on commodities and the better embodiment of commodity value can not be ignored.
Therefore, packaging reduction, recyclability and degradability have become the new demands of industry development, and the green packaging design concept has been born. Saving materials, easy recycling and easy decomposition have become a major topic in the packaging industry. Today, let's enjoy this green packaging design – kraft paper air pillow cushioning bag packaging material.
So wonderful packaging material! Yes, we sale this. If you have any questions, please feel free to contact us!Mail to: Alice@shinerpack.com